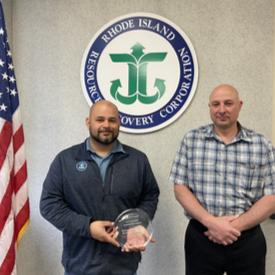 2022 Casella Sustainability Leadership Award
Casella Waste Systems awarded Resource Recovery with their 2022 Sustainability Leadership Award in recognition of our leaf and yard waste composting operation. A video segment from the award ceremony can be viewed on our YouTube page. Each year, Resource Recovery turns about 40,000 tons of leaf and yard waste from cities and towns, commercial landscapers and residential drop-offs into RI Class "A" compost which is approved for use in organic growing. You can visit the Get Compost page of our website for more information on the leaf and yard waste composting operation.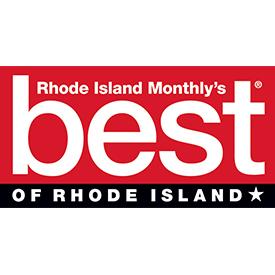 2019 Best of Rhode Island® Award
Rhode Island Monthly magazine gave Resource Recovery a Best of Rhode Island® award for our facility tours in the "Play" category, reserved for the best daytime tours and activities in the state. Each year, we deliver about 200 tours of RI's central waste management facility to groups from across the Ocean State.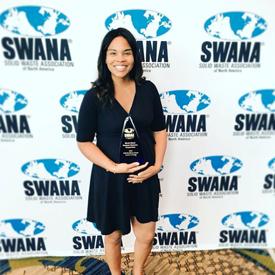 2018 Gold Award for Public Awareness Campaign
The Solid Waste Association of North America (SWANA) named Resource Recovery winner of the 2018 Gold Excellence Award in the Awareness Campaign category for Let's recycle RIght!®. This is the highest award given for an awareness campaign by the industry association. Let's recycle RIght!® aimed to simplify and standardize messaging used to raise public awareness about recycling right. You can download our award application below to learn more about the campaign.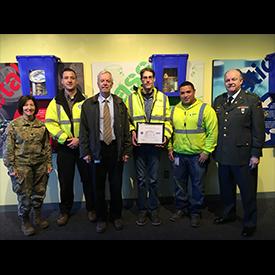 2017 Patriot Award
Materials Recycling Facility (MRF) Operations Supervisor Brian Dubis was presented with a Patriot Award by the Rhode Island Employer Support of the Guard and Reserve (ESGR), in recognition of his overwhelming support of Army National Guard Spc. Edwin Rivera, MRF Working Supervisor. Edwin nominated Brian for taking on additional tasks on multiple occasions while Edwin fulfilled his military obligations. Following the presentation of the award, Executive Director Mike OConnell signed a Statement of Support affirming Resource Recovery's commitment to support Service members and comply with the Uniformed Services Employment and Reemployment Rights Act (USERRA). We deeply appreciate our service members and all that they contribute to our organization and country.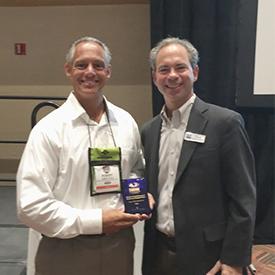 2016 Biggest Safety Improvement Award
Resource Recovery was chosen as the 2016 Biggest Safety Improvement winner by the Solid Waste Association of North America (SWANA) for our complete safety program redesign, which involved the hiring of a designated safety manager, employee education/training programs, employee safety incentives, and new incident review protocol. Since 2009, Resource Recovery has seen a significant reduction in workers compensation claims, insurance premiums, and on-site incidents. You can download our award application below to learn more about the program.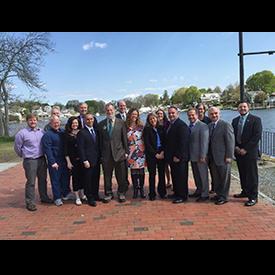 2016 Earth Day Champion Award
Clean Water Action RI recognized Resource Recovery's Special Waste Manager, Joe Rotella, as an Environmental Champion for his management of the statewide Compact Fluorescent Bulb (CFL) collection program. This program has diverted thousands of bulbs from the Central Landfill, keeping mercury and other toxins from getting into RI's soils and waterways.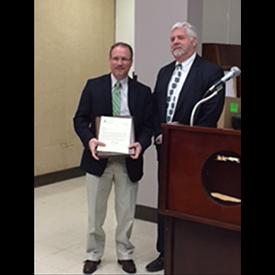 2016 Friend of the Department Award
The RI Department of Corrections (RIDOC) recognized Resource Recovery staff member David Bordieri as a "Friend of the Department" during their annual awards ceremony in 2016. David has worked closely with RIDOC on implementing their recycling program, and continues to assist them with its expansion.  You can get help starting or improving your program here.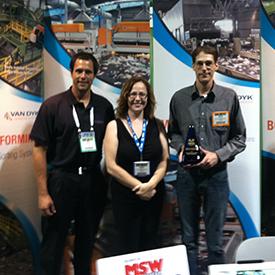 2013 Gold Award for Recycling Systems
RI's recycling system was recognized as the best recycling system in North America by the Solid Waste Association of North America (SWANA). SWANA's Excellence Awards recognize "outstanding solid waste programs and facilities with environmentally and economically sound solid waste management practices." You can download our award application below to learn more about the system.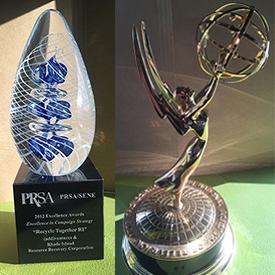 2012 Excellence Award & Emmy
The Southeastern New England Chapter of the Public Relations Society of America (PRSA/SENE) presented Resource Recovery and partner (add)ventures with a 2012 Excellence Award for our Recycle Together RI campaign. This award recognizes outstanding public relations tactics and campaign strategies. In addition, (add)ventures also won a Boston/New England Emmy Award for Outstanding Commercial for its production of our Recycle Together RI TV commercial, recognizing their creativity in producing a commercial that raised awareness about the (then) new, statewide mixed recycling program.